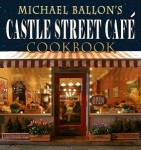 Since it's debut in 1989, Castle Street Café has garnered high praise from the New York, Boston, regional and local press. "Where to eat in the Berkshires," wrote a reviewer for The New York Times. "The best of the Berkshires," The Boston Globe dubbed the cafe. Fodor's put it this way: "Chef-owner Michael Ballon's approach to food is to stress the freshest locally grown produce in simple, elegant recipes."
Ballon worked his way up to executive chef at top New York City restaurants such as Lavin's, Sofi, and Wood's. In 1989, he left the city to open his own restaurant in the Berkshires. From the day it opened, next to the historic Mahaiwe Theatre in downtown Great Barrington, Massachusetts, Ballon has focused on using fresh, local ingredients to create a simple menu served in an unpretentious atmosphere.
In Michael Ballon's Castle Street Café Cookbook, the chef includes dishes from the café's menu, and traditional favorites from around the world. Sandwiched in between are a collection of food essays Ballon has written over the years.
All recipes have been carefully adapted for the home chef and include instructional photographs of the preparation and handling of ingredients.
Castle Street Café Cookbook
by Michael Ballon
ISBN: 978-0-9774053-5-0
Price: $22.50
Pub. Date: January 15, 2008