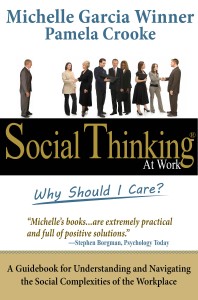 by Michelle Garcia Winner and Pamela Crooke
From Silicon Valley to Wall Street…  Social Thinking at Work: Why Should I Care? is a guidebook for understanding and navigating the social complexities of the workplace. In this groundbreaking book, Michelle Garcia Winner and Pamela Crooke describe the inner workings of the social mind in the workplace and decode the hidden rules of the social world by explaining how we think about our own, as well as other people s thoughts and emotions. The process is complex and it requires social multitasking or Social Thinking to successfully navigate the nuances and different mindsets of others, especially people we may perceive as being difficult to work with.
Why is it that someone can come up with a brilliant strategy, but be unable to effectively communicate an idea in a meeting with fellow managers? What are the social rules of the workplace, and how come it seems not everyone understands them? How is it that a person can be recognized for his productivity on a job but is never included in work or social discussions?
Social Thinking At Work explores how to better express thoughts and how to encourage others to support personal and professional endeavors as you gain an understanding of how to regularly adjust your thinking and related social behaviors for increasingly successful interactions.
$22.00