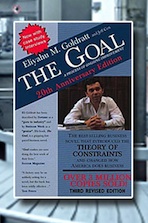 by Eliyahu M. Goldratt
The Goal is a gripping, fast-paced business novel about overcoming the barriers to making money. This book has been used by thousands of corporations, taught in over 200 colleges and universities and translated into over 21 languages.
This 20th anniversary edition includes case study interviews by David Whitford, editor-at-large for Fortune Small Business. The book is an Amazon Business Book bestseller. Over 5 Million copies have been sold!
"Like Mrs. Fields and her cookies, The Goal was too tasty to remain obscure. Companies began buying big batches and management schools included it in their curriculums… —Fortune Magazine
"A survey of the reading habits of managers found that… the one management book they have actually read from cover to cover is The Goal." —The Economist
"Goal readers are now doing the best work of their lives." —Success Magazine
"A factory may be an unlikely setting for a novel, but the book has been wildly effective."  —Tom Peters
Available in English, Spanish, Italian. (Second Revised edition available in German, Brazilian Portuguese, Japanese, Korean and Russian.)
$24.95