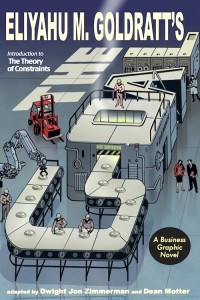 Based on The Goal, by Eliyahu M. Goldratt and Jeff Cox, and adapted by Dwight Jon Zimmerman and Dean Motter
Alex Rogo is a harried plant manager who has been given 90 days to save his failing factory. If he doesn't improve the plants' performance, corporate headquarters will close it down and hundreds of workers will lose their jobs. It takes a chance meeting with Jonah, a former professor, to help him break out of his conventional thinking and figure out what needs to be done. As Alex identifies the plant's problems and works with his team to find solutions, the reader gains an understanding of the fundamental concepts behind the Theory of Constraints.
Visual and fun to read, The Goal: A Business Graphic Novel offers an accessible introduction to the Theory of Constraints concepts presented in The Goal, the bestselling business novel on which it was based.
Advance praise:
"The Goal changed the lives of generations of professionals—no other book influenced my career more."
—Gene Kim, co-author of The DevOps Handbook and The Phoenix Project
"The Goal is the #1 business book of all time and the graphic adaptation makes this timeless classic and its powerful ideas even more accessible. If you only read one business book, it should be this one."
—Verne Harnish, Founder Entrepreneurs' Organization (EO) and author of Scaling Up (Rockefeller Habits 2.0)
"A compelling adaptation of Eli's seminal work. This book should be required reading for CIOs, CTOs and technologists the world over."
—Kevin Behr, Chief Science Officer at PraxisFlow, co-author of The Phoenix Project
"Brilliant delivery! True to Eli's vision, this is the go-to book to help your business stop struggling and start growing. Clear step-by-step techniques show your team how to turn your business around so you can achieve prosperity."
—Drew Greenblatt, CEO of Marlin Steel
"Once I began applying the principles taught in The Goal, I began to see enormous jumps in my organization's performance—not just once—but time after time.… The Theory of Constraints (TOC) requires that we think deeper, work smarter, and trust in our inherent ability to see with more clarity."
—Kris Cox, Executive Director, Utah Governor's Office of Management and Budget
Pub date: August 8, 2017